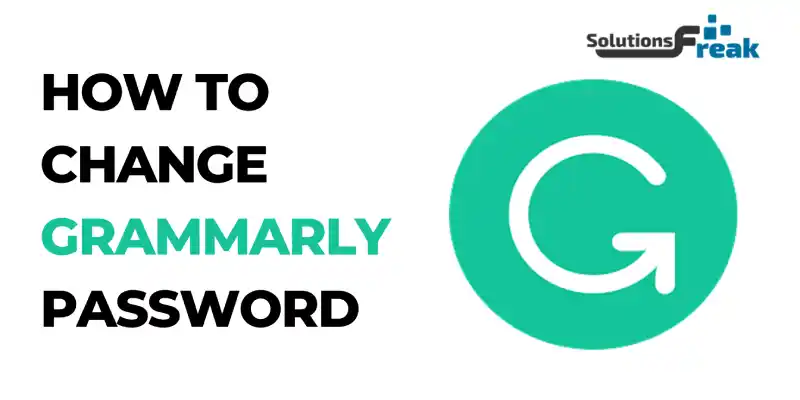 4 July, 2023
How to Change Grammarly Password
As everyone know Grammarly is an American-based Ukrainian cloud-based typing assistant company. Max Lytvyn, Dmytro Lider, Alex Shevchenko is a founder of Grammarly and It also It helps to check spelling, grammar, punctuation, clarity, engagement, and delivery mistakes in English texts, detects plagiarism, and suggests replacements for the identified errors. It also allows users to customize their style, tone, and context-specific language.
Grammarly, an online grammatical correction and proofreading application, is compatible with a variety of platforms, including Windows, Mac, iOS, and Android. Grammarly examines word spelling, corrects punctuation and grammatical problems, modifies tone, and provides style suggestions. It can also aid with duplication checking in academic writing. These features helped Grammarly gain popularity among users, and it is currently one of the most popular online writing tools.
This program is being used by over 10 million people worldwide to edit their social media postings, emails, and articles. It's a tool for improving writing and making written stuff more interesting and effective. Grammarly provides its consumers with both free and premium services.
In the digital age, where personal data security is of utmost importance, it is crucial to regularly update and change passwords for various online accounts. One such account that requires careful protection is Grammarly, a popular writing tool used by millions of users worldwide. In this comprehensive guide, we will walk you through the process of changing your Grammarly password step by step. So, if you've been wondering how to change your Grammarly password, you've come to the right place.
Understanding the Importance of Changing Your Grammarly Password
In the realm of online security, changing passwords regularly is a fundamental practice to protect your sensitive information from potential hackers. By changing your Grammarly password periodically, you reduce the risk of unauthorized access to your account and safeguard your personal and professional documents. Taking this proactive measure adds an extra layer of security, ensuring that you maintain control over your Grammarly account.
Follow simple steps that helps in How to change Grammarly Password.
Let's delve into the step-by-step process of changing your Grammarly password:
Step 1: Navigate to the Grammarly official website. You can do this by typing "www.grammarly.com" into the address bar and pressing Enter.
Step 2: Logging In to Your Grammarly Account Once you've reached the Grammarly homepage, locate the "Log In" button in the top right corner of the page. Click on it to proceed to the login page.
Step 3: Enter your email address and password in the designated fields and then click on the Sign-In
Step 4:After Login then Grammarly Dashboard is opened and you will see the many options on the top-left side then select the "Account" button
Step 5: When you click on the Account , You can see "Account Settings page", find the "Password" section. Click on update button.
Step 6: Enter your current password and new password as instructed in the pop-up page, that's how you change your Grammarly password.
Congratulations, your password is changed
If you registered Grammarly using a third-party site, such as Google or Facebook, but wish to set or change your Grammarly password, you may do so by following these instructions.
Log in to your Grammarly account using your existing login method from the Grammarly homepage.
Click the Create button next to the password field to send an automatic password reset email to your inbox.
Examine your email and then click the Reset Password option. You'll be sent to a website where you can reset your password.
Conclusion
In conclusion, changing your Grammarly password is a vital step in maintaining the security and integrity of your account. By following the simple steps outlined in this guide, you can easily update your password and protect your valuable personal and professional documents. Remember to change your password periodically and adopt other security measures to enhance your overall online safety.